Welcome to our Reception Class Page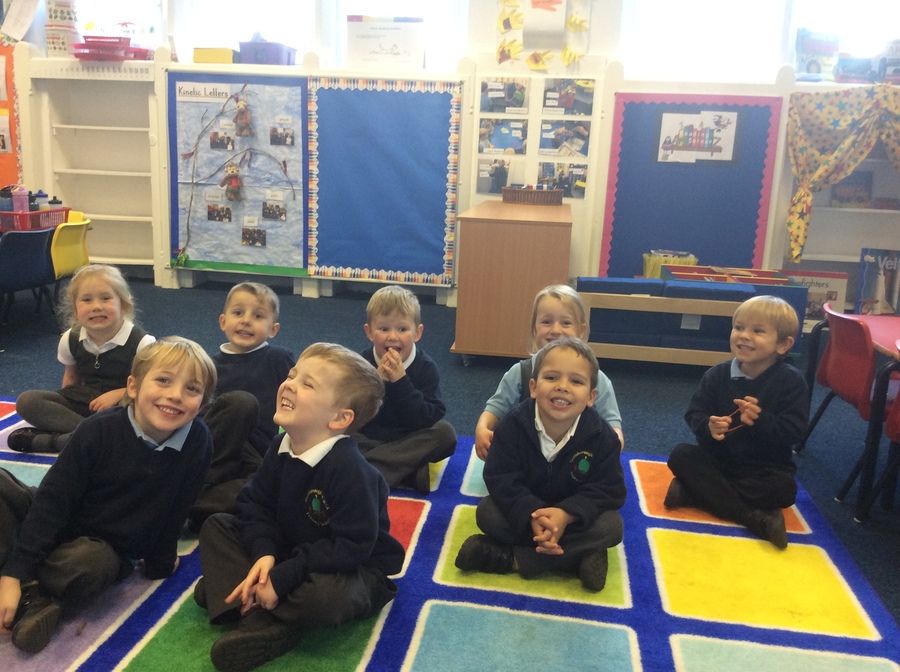 Mrs Shields and Mrs Cox are our Teachers and Mrs Moyes is our Learning Support Assistant.
Summer Term 1, April 2018.
Dear Parents / Carers,
Welcome back to the first half of our Summer term. We hope you had an enjoyable Easter and have recovered from 'chocolate indulgence!'
Our overall topic for this term is 'Once upon a time'. We will be reading a range of traditional tales and comparing different versions of them. Some of the tales will be explored in detail as a stimulus for activities throughout the topic. We will be learning about the structure and development of stories and we will begin to use story maps to orally re-tell them. Drama, small world toys and role play will be used to explore the themes further and to stimulate writing opportunities. Children will explore varying sound makers and compose musical accompaniment for some stories. They will also have opportunities to discuss and develop ideas for construction with recycled materials and construction resources. They will be supported to evaluate and adapt their creations individually or in small groups. Children will be encouraged to draw and write labels and captions for their models. As many traditional tales have food as an element of the story we will also be discussing food, cooking and healthy eating. All of this topic's learning links with the 'Characteristics of Effective Learning', particularly 'Creating and thinking critically' by supporting children to choose ways of approaching activities and having their own imaginative ideas. We will continue to read a wide range of stories, poems and information texts where appropriate.
We will be using the outdoor area frequently. Please ensure your child always has a coat or lightweight raincoat in school as the outdoors can be explored whatever the weather. Please could you also ensure that your child has had sunscreen applied when appropriate.
During this half term our Maths topics will include chanting number names in order in 1's forwards and backwards and forwards in multiples of 2's, 5's and 10's, recognising numerals to 20+, simple addition and subtraction by supporting the children to count on or back to find and answer and beginning to understand and use number sentences and number lines. All of these topics can be practised at home using everyday routines and objects. We will be extending these ideas by beginning to learn the number bonds to 10, recognise doubles and halves and solving number problems. It would be beneficial to your child if you could help them to choose and use the appropriate strategies to solve problems. E.g. "You have invited 12 children to a party but you only have 8 party bags, how many more do you need?" Ask your child to explain orally how problems like this could be resolved. In Shape, space and measure aspects of Maths, children will be exploring the properties of 2d and 3d shapes, comparing lengths, weight and money by adding the values of different coins. Children will also begin to read o'clock and half-past times on a clock and order the days of the week.
The children will continue to develop their key skills in literacy. We will consolidate the children's knowledge of letter sounds and revising their knowledge and use of long vowel sounds (ai, ee, igh, oa, oo, or, ow, oi, air, ear, ur, ure, er). We will be continuing to blend these sounds to read words and simple sentences and extending this to read longer words containing consonant blends. We will also be encouraging the children to use their phonic knowledge to segment the sounds in words to 'have a go' at writing their own simple sentences. This means the children independently write the sounds they can hear in the words. At first there may just be the first sound in each word, progressing to a sentence that you can read without being told what it says even though the spellings may not be correct. If given lots of praise and encouragement at this stage, children see themselves as writers. Please encourage your child to practise this essential skill at home by writing simple captions for their models and drawings, writing shopping lists or labels for their drawings. We will continue to read a lot of stories and non-fiction books in school, exploring the texts and developing the children's creative ideas. We will also be learning letter names, capitals and beginning to use alphabetical order. As always, may we thank you for practising reading skills with your children and hearing them read regularly.
P.E. will be on Wednesdays and Thursdays this half-term. Occasionally lessons may take place on other days, therefore, please ensure your child's P.E. kit is in school at all times. Some of the PE lessons will take place outdoors; please ensure your child has a named pair of plimsolls in their PE bag for this term. It would be really helpful if the plimsolls have a Velcro fastening if possible so that the children can take them on and off easily themselves – thank-you!
If you have any queries or concerns, please do not hesitate to come and see either one of us.
Mrs Cox and Mrs Shields.
We enjoy playing and learning together.
Look at what we have been learning in...
We are learning about Harvest Festival.