Guilsborough CEVA Primary is committed to supporting every child to be physically active and have positive attitudes towards healthy and active lifestyles.
What is Sport Premium?
On the 16th March 2013 the government announced it would be investing £450 million over the three academic years (2013-2014, 2014-2015, 2015-2016) to support the delivery of P.E. and school sport in primary schools. Each primary school with more than 17 pupils, receive £8,000 with an additional sum of £5 per pupil. This money will be ring fenced providing schools with dedicated funds to buy in invaluable expertise and support.
Purpose of Funding:
Schools have to spend the sport funding on improving their provision of PE and sport, but they have the freedom to choose how they do this.
Possible uses for the funding include;
Hiring specialist PE teachers or qualified sports coaches to work alongside primary teachers when teaching PE

New or additional Change4Life sports clubs

Paying for professional development opportunities in PE/ sport

Providing cover to release primary teachers for professional development in PE/sport

Running sport competitions, or increasing participation in school games

Buying quality assured professional development modules or materials for PE/sport

Providing places for pupils on after school sports clubs and holiday clubs
We would expect the impact of the Sports Premium Grant to be:
Increased opportunities for all our pupils to access a wider variety of PE and Sports

Opportunity to develop the competitive element of sports and the skills of sportsmanship

Increased opportunities for our pupils with sporting talents to train and compete with pupils of similar skills

Develop pupils understanding of the importance of keeping fit and healthy and ways they can improve their health and fitness

Pupils who are fitter, healthier and are motivated to continue to improve.
Our Allocation
2016-2017: £8905.
See our action plan below on how we plan to spend it:
Our Allocation
2015-2016: £8905
This year, we have planned to slightly reduce the amount of coaching by Pacesetters, although this is still being used for 'up-skilling' of our teachers' PE teaching, so the pupils are enjoying a weekly session (for four terms out of six) with both their teacher and a specialist coach. This year, the up-skilling is focusing on ball sports, whereas in the previous year they mostly worked on Gymnastics with the teachers. With the remainder of the funding, we are employing a teaching specialist for a day per term, to help train our teachers (and pupils) with different sports teaching techniques.
We have also invited some professional sportspeople in to school, to help raise the sporting aspirations of our children. This will hopefully be especially apparent in Term 6, when our whole-school curriculum theme is 'On Your Marks', during the term we are also planning a special Olympic Week, in preparation for Rio 2016.
We are also planning for all the staff to undertake REAL PE training in September 2016, to help enhance our PE teaching provision further.
The remainder of our funding has been spent on buying into the Northamptonshire Primary School Sports Package, which means we can participate in a variety of sports, competing with other schools. This helps build pupils' resilience and team ethos.
The sports funding has had very positive impact on pupils' sports enjoyment and participation. In the past year, for instance, our children have taken part in 8 different inter-school competitions. We have got into the county final for basketball and got into the area finals for cricket. Both boys and girls are playing a really positive part in competitions and in school PE sessions.
2014-2015: £8865
The vast majority of our funding this year was spent on providing specialist sports coaching for every class in the school. The coaches delivered one PE session per week for each class, in conjunction with our class teachers - who were 'up-skilled' during the sessions, to enable them to extend their own PE delivery skills at the same time. During 2014-2015, the Pacesetters coaches helped deliver a total of 268 up-skilling sessions, across all of the classes in the school.
In addition, the Pacesetter coaches delivered a lunchtime play session each week, together with after-school clubs for both key stages. The lunchtime session had an average of 40 children taking part every Thursday lunchtime. This helped keep lunchtimes a positive and challenging time, with the children learning new games that they then shared with other pupils on other days.
A small proportion of our funding was saved towards buying in some other specialist sports visitors later in the year - which we did during our Challenges curriculum theme in Term 5.
The impact of the Sports Premium was very positive. Teachers reported that they felt their PE skills had developed well, especially their teaching of Gymnastics. This has meant that there is less need for up-skilling of Gymnastics for the next year.
2013-2014: £ 8815
Class 3 and 4 enjoyed their very first ballroom dance lesson led by a professional dancer this Friday (8/11/13). Class 2 will take part in their first session on Wednesday 13th November. The rest of the school cannot wait to see the children perform on Friday 22nd November 2013 at 11:15am. Parents you are more than welcome to come and watch the performance.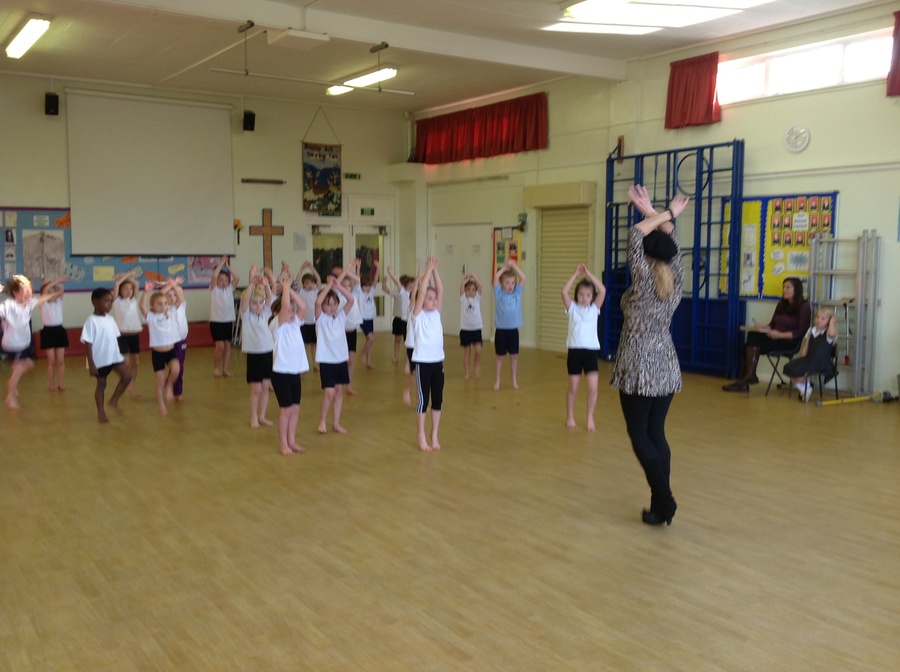 Year 5 and 6 have coaches from Pacesetter sports to teach games in one of their P.E. lessons a week. The teachers have observed some lessons and reflected on the skills that they have seen being delivered and will be using these in their own teaching.
Foundation Stage and KS1 took part in some training for Val Sabins Action Kids PE scheme on Thursday 1st May 2014.
Four of our year 5 children attended a Leadership Day on Friday 25th April. The children have come back to school with lots of great ideas and are holding an assembly in front of the school on Wednesday 7th May.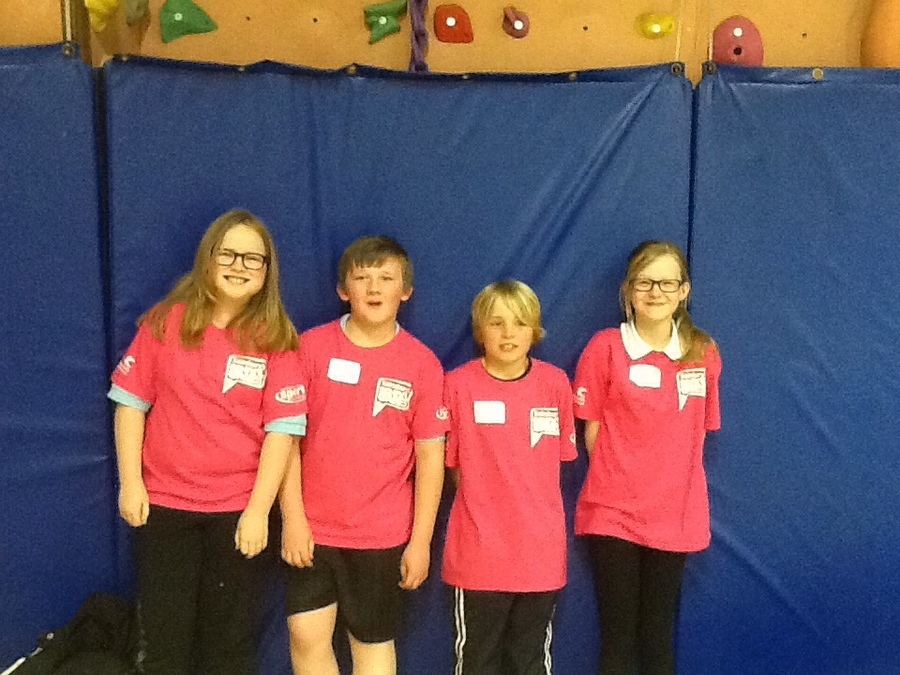 On Monday 11th November 2013 some children from years 5 and 6 participated in a tag rugby tournament at Daventry Rugby Club. It was a fantastic afternoon (if a little wet!) The school came a respectable 6th. Well done to all the children involved and a big thank you to the parents for your support with transport.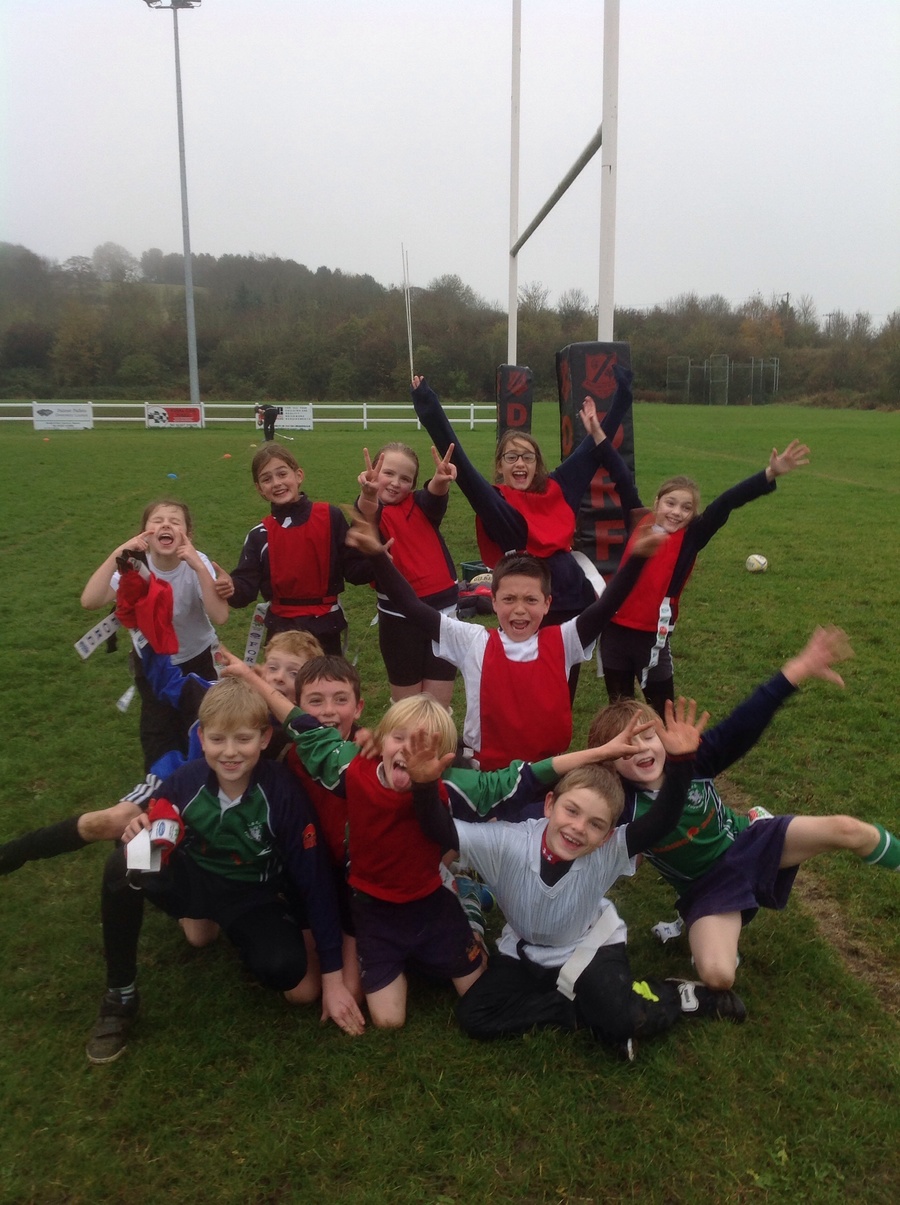 Some children from Year 5 and 6 attended a sports hall athletics tournament at Daventry Leisure Centre on Thursday 23rd of January 2014.The children did really well participating in events such as relays, javelin, long jump and triple jump. Out of ten schools we came a fantastic 5th! Well done to all involved and to the parents who helped with transporting the children and supporting them during the afternoon.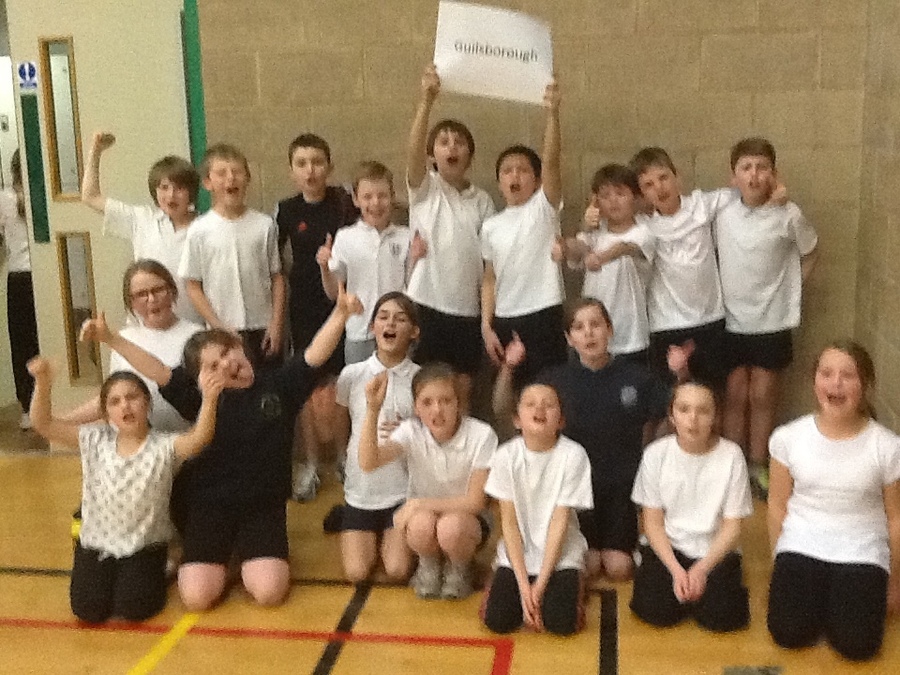 Miss Bird and Miss Hutchings will be attending a High 5 Netball course in a couple of weeks time to brush up on their netball delivery skills. Miss Bird and Miss Hutchings are hoping to start an after school netball club once they have completed their training.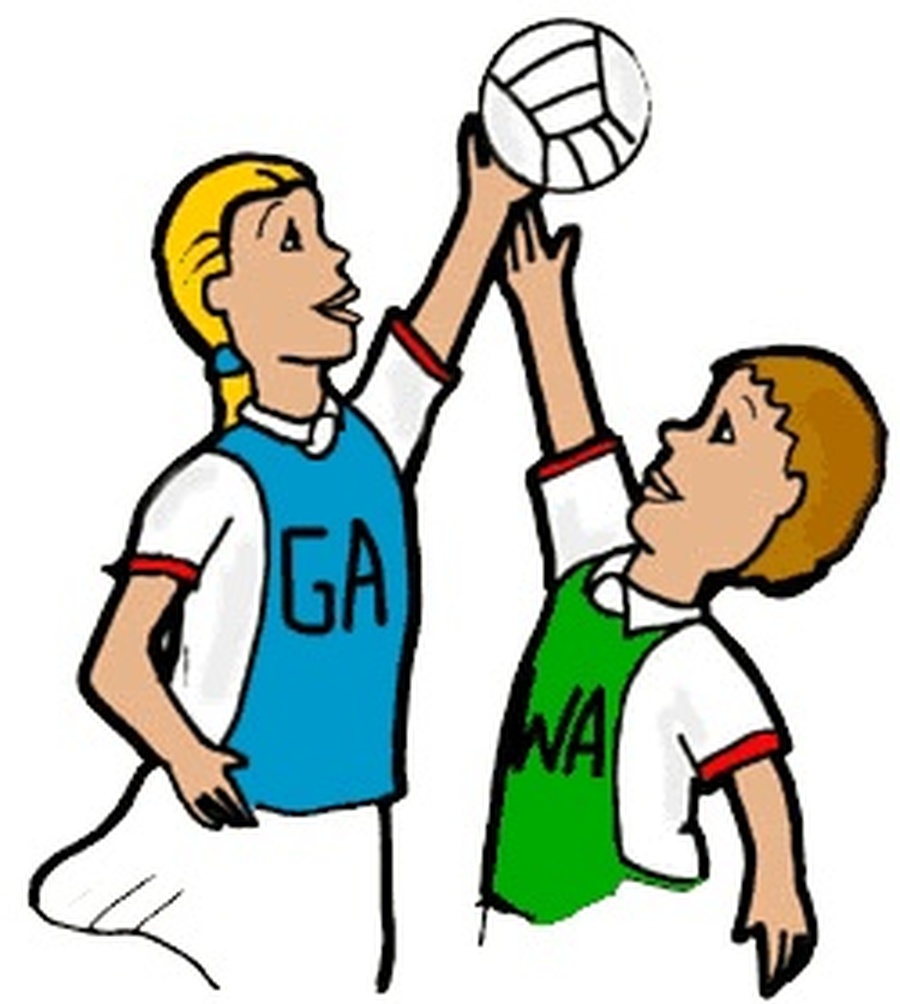 Miss Hutchings will be attending a Sainsburys Inclusive P.E. Course. She will feedback what she has learnt to the teachers so that the staff are all up to date on how we can cater to all the needs of the children.
Hockey stars from years 3 and 4 took part in the Daventry District Kwik sticks hockey tournament in April. We came second meaning that we went through to the next round at Campion School in Bugbrooke which was held on 28th April. This tournament included schools from South Northants with ten schools participating. The children did fantastically well winning all but one of their matches meaning they were the winners of the tournament. The children are now through to the School Games festival in July. Well done Olivia, Max, Henry, Charlie, Tilly and Daniel. You were great!!